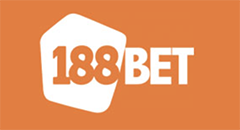 188BET
sportsbetting, live casino and online gambling
A good feature of the 188BET site is that there is plenty of help at hand. With sites of this nature, there's bound to be some question that you'd like the answer to. There are also lots of statistics available that will help you decide just who to bet on. The 188Bet website has been in operation since 2006 so it has plenty of experience built up over those years. There may not be a welcome offer at present (hopefully there will be in time) but there is plenty more available here that will make your visit to this site highly enjoyable. 188BET is under the ownership of Cube Limited. The site was launched in 2006 so they have plenty of experience in the field. They are fully licensed and regulated by the Isle of Man Gambling Supervision Commission. That is good to see and increases the safety of your funds when using the site.
Please note that this bookmaker does not at present accept players from the UK. If this situation changes, we will inform you of that fact as soon as possible. If you love in-play betting, then this is a site you just have to be a member of. There is a wide number of sports covered at 188BET (full list lower down in this review) so you will always find a great choice of events to try and get some winnings from. It's not just about betting on sport at this site. There are the music charts, reality television shows, financial betting, and which movie will have the largest opening box office. Such variety is good to see on a site.
Fans of games such as roulette, baccarat, or blackjack, will be pleased to read about the 188BET Casino. This is packed to the brim with top games to play and there's a Live Casino to enjoy too. The site has a separate poker section and you can bet on virtual games too.
Several payment methods can be used for financial transactions on the 188BET site. Some online gambling sites have more but you should have few problems in finding one to use here. You can use Skrill, Neteller, Visa, or Mastercard to make deposits into and withdrawals from your 188BET account. It is required that you use the same method to make withdrawals as you do when putting money into your account.
188BET Desktop
After filling in their registration form, you will love what you see at the 188BET sportsbook. You will find everything clear and not cluttered. That's the last thing you want, especially if in a hurry to place that all-important bet. Navigating your way around the site isn't a problem either, more about that shortly. The center of the page is where all the action is. There's a link to a top sporting event taking place later that day. Usually, this has an image of one of the players so that livens up the home page. This also includes some of the odds available for the game and in particular, any enhanced odds.
Below that are the in-play and starting soon games. You can click on the match you fancy putting a bet on to take you to the dedicated page for that event. The events are split into the different sports that are available to bet on at 188BET. Underneath that list is an important section. It has details of the enhanced multiples that are on the site. Higher odds mean even more potential winnings, so it's important to see what is on offer. Hopefully, they will be for games where you have a strong fancy.
Being able to swiftly access the main pages on the site is vital at a site of this nature. The left-hand side of the page is important here. You can see links to the in-play section of the site and games that are about to start. There's also a link to the multiples section and the Asian View which is ideal if you love Asian Handicap Betting.
To make it even quicker to get to the pages you access most, you can create a list in 'My Competitions.' So, if you regularly bet on the English Premier League or Snooker/Pool, then add them to the list. Below is the list of all the sports covered on the 188BET site. Just click on the sport and away you go. The list on the left-hand side of the page becomes even more important with links to the rules of the site, results, statistics, and frequently asked questions. On the right-hand side, there are more details about specific events, both upcoming and in the future.